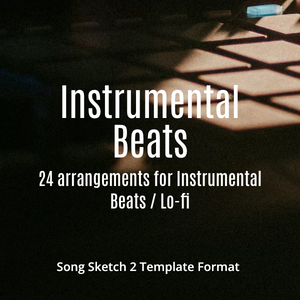 24 Song Sketch arrangement templates for Instrumental Beats / Lo-fi beats. You may also find these templates useful for similar genres.

The templates in Instrumental Beats are inspired by various music within Instrumental Beats such as Lo-Fi beats.
The templates range from 28 to 80 bars in length. For example, this will result in 1.5 - 4 minutes tracks if the tempo is set to 80 BPM.
NOTE: 
None of the templates in this pack are included in the Song Sketch 2 Pro or Starter packs.  
This is an add-on product for Song Sketch 2 Pro and Song Sketch 2 Starter. The templates can only be used with Song Sketch 2.0.0 and later.