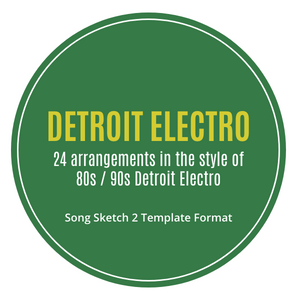 24 Song Sketch arrangement templates in the style of 80s and 90s Detroit Electro.

You may also find these templates useful for similar genres such as Techno, as well as other electronic music.

The Detroit Electro template pack contains a variety of arrangements inspired by 80s and 90s artists such as Drexciya, AUX 88 and Arpanet.

NOTE: 
None of the templates in this pack are included in the Song Sketch 2 Pro or Starter packs.  
This is an add-on product for Song Sketch 2 Pro and Song Sketch 2 Starter. The templates can only be used with Song Sketch 2.0.0 and later.