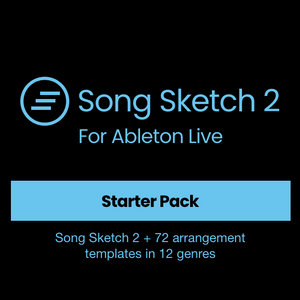 Song Sketch 2 + 72 arrangement templates in 12 genres.
Song Sketch 2 is a Max for Live tool for working with song arrangement in Ableton Live. With Song Sketch 2 you can quickly draft an arrangement based on your loop and work with different arrangement options for the music that you are composing.

The Starter Pack includes the full version of Song Sketch 2 and a core library of 72 arrangement templates in 12 genres: Hip Hop, House, Techno, Pop, Drum & Bass, Trap, Dance & Mainstage, Trance, Downtempo, Reggaeton, Reggae & Dancehall, and Rock & Country.
Song Sketch 2 is also available in a Pro Pack (172 templates in 14 genres). The Pro pack includes all templates in the Starter Pack plus an additional 100 unique templates.
More templates are available in expansion packs. None of the templates in the expansion packs are included in the Pro or Starter packs.

System Requirements:

- Mac OS (Sierra or later), or Windows 10/11.
- Ableton Live 10/11 Suite, or Live 10/11 Standard with Max For Live 8 as an add-on license. Max for Live version 8.3.1
- Ableton 10 users may need to update Max for Live to version 8.3.1, this is a free update for Suite users.
- RAM: minimum 8GB, recommended 8GB+.