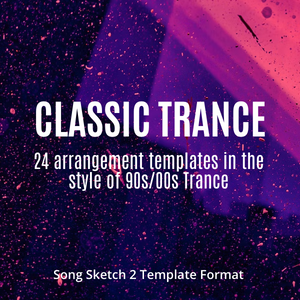 24 Arrangement templates for Song Sketch 2 in the style of Classic Trance.
This set includes 24 templates, each representing the structure and patterns that defined the trance scene in the 90s. Though rooted in trance, they can also serve as a valuable blueprint for exploring other genres. Unleash your creativity and master the art of arrangement with these versatile templates.

NOTE: 
None of the templates in this pack are included in the Song Sketch 2 Pro or Starter packs.  
This is an add-on product for Song Sketch 2 Pro and Song Sketch 2 Starter. The templates can only be used with Song Sketch 2.0.0 and later.