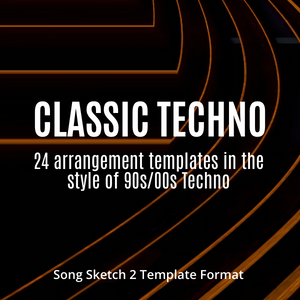 24 Arrangement templates for Song Sketch 2 in the style of Classic Techno.
Unleash the raw energy of the 90s dance scene with our Classic Techno Arrangement Templates. This pack delivers 24 meticulously designed templates that encapsulate the structure and pattern synonymous with classic techno music. Although specifically made for techno, these templates are versatile and can be repurposed for other electronic genres, making them an indispensable tool for any producer's arsenal.

NOTE: 
None of the templates in this pack are included in the Song Sketch 2 Pro or Starter packs.  
This is an add-on product for Song Sketch 2 Pro and Song Sketch 2 Starter. The templates can only be used with Song Sketch 2.0.0 and later.