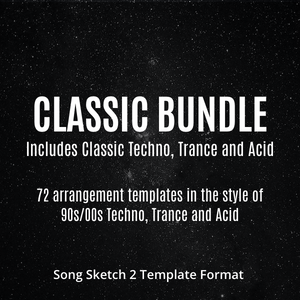 The Classic Bundle includes 72 templates for Song Sketch 2 in the styles of Classic Techno, Trance & Acid.

Embrace the past to shape your future sound with the Classic Bundle. Unleash your creativity and explore new possibilities for your sonic landscapes. This carefully crafted bundle combines three iconic genres: Classic Techno, Trance, and Acid, offering an indispensable tool for both novice and experienced producers looking to master the art of arrangement and expand their creative horizons.

The Classic Bundle delivers 72 unique arrangement templates designed for Song Sketch 2, each capturing the structure and flow of its respective genre.

While each template is specifically designed for its genre, they retain a versatility that allows producers to repurpose them for a myriad of electronic and dance genres. The Classic Bundle is your gateway to a profound understanding of classic electronic music structures, propelling your productions into new realms of sonic exploration.
NOTE: 
None of the templates in this bundle are included in the Song Sketch 2 Pro or Starter packs.  
This is an add-on product for Song Sketch 2 Pro and Song Sketch 2 Starter. The templates can only be used with Song Sketch 2.0.0 and later.