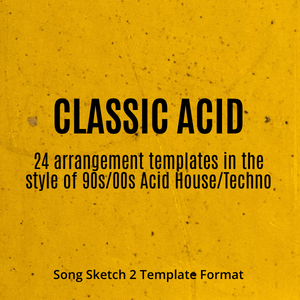 24 Arrangement templates for Song Sketch 2 in the style of Classic Acid.
Embrace the spirit of the 90s rave culture with our Classic Acid Arrangement Templates. This collection offers 24 crafted templates that capture the arrangement styles of acid house and techno. Each template serves as a roadmap, suggesting the timing for introducing and exiting elements, and the overall flow of a classic acid track. While these templates are inspired by acid house and techno tracks they can be used for a wide array of electronic and dance genres.
NOTE: 
None of the templates in this pack are included in the Song Sketch 2 Pro or Starter packs.  
This is an add-on product for Song Sketch 2 Pro and Song Sketch 2 Starter. The templates can only be used with Song Sketch 2.0.0 and later.